TAKE A CLOSER LOOK AT WAR BONDS: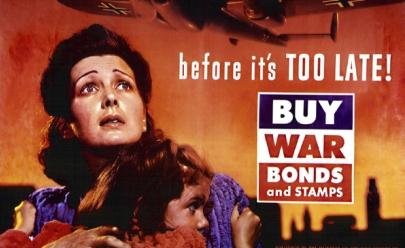 War Bonds for the War Effort
War is expensive. World War II was very expensive. The United States spent more than $300 billion fighting the Axis Powers and supplying our Allies—that equals more than $4 trillion today! To help fund this effort, the government turned to ordinary Americans. The United States Treasury offered Americans a series of War Bonds they could purchase during the war. A War Bond was both an investment in one's country and an investment in one's own financial future. Here's how it worked:
You could purchase a $25 War Bond for $18.75. The government would take that money to help pay for tanks, planes, ships, uniforms, weapons, medicine, food, and everything else the military needed to fight and win. That's the investment in your country. Ten years from the time you purchased your War Bond you could redeem it and get $25. That's the investment you made in your own financial future. Now, $6.25 may not sound like a lot, but most Americans bought more than just $18.75 worth of War Bonds.
Everywhere they went Americans were encouraged to help support the war effort by purchasing War Bonds. Posters picturing Uncle Sam or a soldier on the battlefield implored people to do their part. Celebrities like Bob Hope, Frank Sinatra, Bette Davis, and Marlene Dietrich, traveled the country putting on live shows or radio programs promoting War Bond sales. Children did their part, too, purchasing .25¢ War Stamps to paste into War Bond booklets. Schools held their own War Bond drives and students would bring in nickels, dimes, and quarters to see if their school could out-raise other schools. Even Superman, Batman, Bugs Bunny, and other cartoon characters got into the spirit, reminding young people that "we're all in this together."
All images are from the Education Collection, The National WWII Museum.

Image Gallery: