ORAL HISTORIES:


The Museum has collected a number of recordings of the personal stories of veterans of World War II. These oral histories contain vivid retellings and synthesis of the experience of the war through first-hand accounts and memories of the men who were there.
Click on the images below to watch each featured veteran's oral history.

Featured Oral Histories: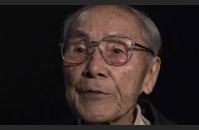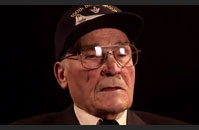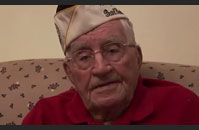 Zenji Abe
Val Dive Bomber Pilot,
Imperial Japanese Navy
Speaking over footage from captured Japanese films of the attack on Pearl Harbor, Abe describes the day and the incredibly quick response of American anti-aircraft defenses to the attack.

Joe Armanini
Lead Bombadier, 349th Bomb Squadron, 100th Bomb Group
Armanini talks about the August 17, 1943, raid on Regensburg, addressing the mindset required to fight a war and how he dealt with the personal losses and stress of the air war over Europe in 1943.

Giles Bacon
Pfc., Naval Air Station, Ford Island, Pearl Harbor
When Pearl Harbor was attacked, Bacon was serving as MP at the brig on Ford Island. He remembers rescuing survivors covered in oil from destroyed ships and discusses how the devastation of that day affects him still.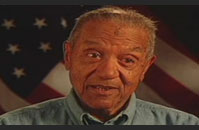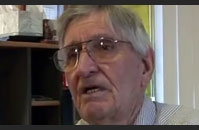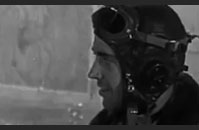 Vernon Baker
Medal of Honor Recipient,
April 1945, US Army
Baker remembers the discrimination he faced while trying to enlist, and describes his experiences with the 370th regiment — the first black unit to see combat — including the acts of heroism that won him recognition.

Carl Beck
501st Parachute Infantry Regiment, 101st Airborne Division
Beck recounts the challenges his regiment faced encountering a battalion in the dark woods of the Bois Jacques Forest in Belgium, where visibility was little to nil.

Jack Bradley
Major Jack Bradley of the 354th Fighter Group gives an interview immediately following one of his several missions over Normandy on D-Day June 6, 1944. Gun camera footage from some of Bradley's 15 aerial victories is shown next.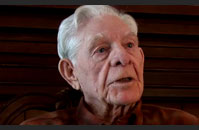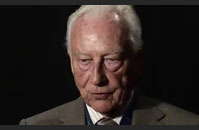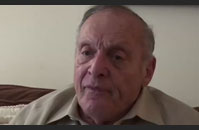 Ray Church
Pfc. US Marine Detachment, Guam, December 8 – 10, 1941
Church tells how his detachment of 8 Marines, military governor McMillin and the local militia resisted the Japanese demand for surrender, and held the enemy off for half an hour until they ultimately ran out of ammunition.

Walter D. Ehlers
Medal of Honor Recipient,
June 9 – 10, 1944, US Army
Ehlers describes the close-range battle he and his platoon had with German soldiers in the hedgerows, and the rescue he performed after being wounded himself.

Harry Ettlinger
Sergeant, US Army, Monuments, Fine Arts and Archives
Ettlinger discusses his work as one of the Monuments Men, recovering stolen works of art in Nazi hiding places and returning the treasures to their rightful owners.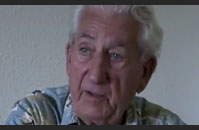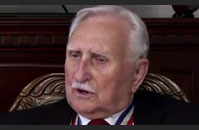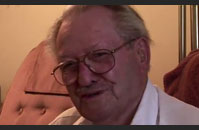 Dan Farley
A Company 5th Ranger Battalion, Omaha Beach, June 6, 1944
Dan Farley talks about his experiences on Omaha Beach on D-Day June 6, 1944, including a daylong firefight and the capture and release of a group of prisoners.

Glenn Frazier
Sergeant, US Army, Bataan Peninsula, December 1941 – April 1942
Frazier, recipient of numerous awards for his service, describes the combat preceding his capture and entrance into the cruel circumstances of the Bataan Death March.

Ron Graetz
Aviation Radioman 3rd Class, Kwajalein, February 1, 1942
Graetz describes his part in the first American offensive action of World War II in the Pacific during the Marshall Islands Raid of February 1, 1942. Graetz relates how he and his squadron mates from USS Enterprise's Torpedo Squadron 6 made their attack and subsequent escape.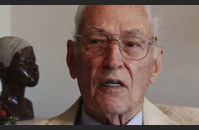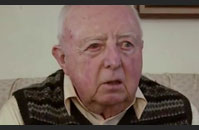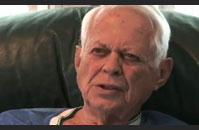 Richard Greer
1st Battalion, 7th Marines, Guadalcanal
Richard Greer recalls the defense of Henderson Field, Guadalcanal, Solomon Islands, against the brutal Japanese attack during the night of October 24 – 25, 1942.

Clayton Kelly Gross
P-51 Mustang Ace
354th Fighter Group Mustang Ace Clayton Kelly Gross describes his first and second aerial victories. Gross went on to score six confirmed victories thus attaining Ace status.

The I&R Platoon
This is the story of one platoon of 18 lightly armed men held off the spearhead of Kampfgruppe Peiper for eight hours during the Battle of the Bulge on December 16, 1944. The ultimate David versus Goliath story of World War II.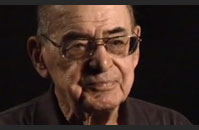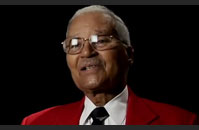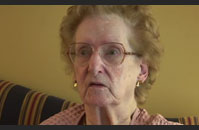 John Marr
1st Lieutenant, Paratrooper, Company G, 507th Parachute Infantry Regiment, 82nd Airborne
Over three videos, Marr gives a detailed account of his regiment's landing in Normandy on D-Day.

Charles E. McGee
Lieutenant, 332nd Fighter Group, 302nd Fighter Squadron
Operation Overlord, June 1944
McGee describes being a fighter pilot flying the P-51 Mustang as part of a heavy bomber escort.

Barbara Pathe
Red Cross "Clubmobiler"
"Clubmobilers" provided some of the comforts of home with coffee and donuts, conversation and sometimes even a dance. Barbara Pathe talks about her experiences as a "clubmobiler" on the front lines and in a liberated prison camp.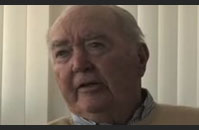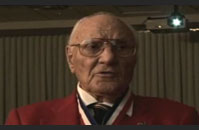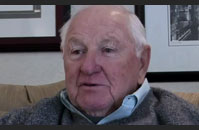 James D. "Jig Dog" Ramage
Rear Admiral and Commanding Officer of VB-10, Battle of the Philippine Sea, June 20, 1944
Ramage recounts his experience as strike leader of a squadron of SBD-5's and their return from a night mission without a single loss.

William G. Roy
Cameraman, USS Yorktown, Battle of Midway
Bill Roy reviews the 35mm film and still footage he shot on the USS Yorktown just before it sank during the Battle of Midway. Some of the footage he had never seen before.

Jack Skaggs
1st Marine Defense Battalion, Wake Island
Skaggs' 5" gun battery sank the first Japanese ship of the war. When the island fell on December 23, 1941, Skaggs was taken prisoner, not to be released until September 7, 1945.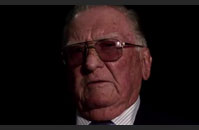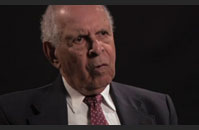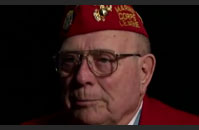 Donald J. Stratton
USS Arizona survivor
Stratton recalls the events of the morning of December 7, 1941, on board the USS Arizona at Pearl Harbor. Despite being medically discharged with burn injuries, Stratton later reenlisted and served another tour of duty in the Pacific.

Tuskegee Airmen
Listen to Charles McGee, William Holloman, John Leahr and Calvin Moret describe their experiences as members of the Tuskegee Airmen.

Hershel "Woody" Williams
Corporal, 3rd Marine Division, Iwo Jima, Medal of Honor Recipient
Woody Williams describes his flamethrowing mission during the Battle of Iwo Jima at Mount Suribachi in February 1945.