FOCUS ON: THE TUSKEGEE AIRMEN: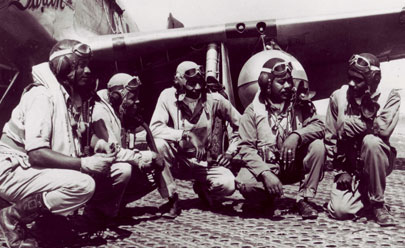 Between 1941 and 1946, roughly 1,000 black pilots were trained at a segregated air base in Tuskegee, Alabama. The most famous of the Tuskegee Airmen were the 332nd Fighter Group, also known as the "Red Tails" for the distinctive markings of their planes. The 99th Pursuit Squadron, later renamed the 99th Fighter Squadron, also distinguished themselves in combat. Together they flew more than 15,000 sorties and lost 66 men in the line of duty. Additional units, the 477th Bombardment Group and the 553rd Fighter Replacement Training Squadron, were activated during the war, but did not see combat.
The Tuskegee Airmen played a vital role in the African American war for "Double Victory" — victory over the Axis powers and victory over racism at home. In 1941 fewer than 4,000 African Americans were serving in the military. By 1945, more than 1.2 million African Americans would be serving in uniform on the Home Front, in Europe and the Pacific (including thousands of African American women). The United States Armed Forces were officially desegregated in 1948.
The Museum's US Freedom Pavilion: The Boeing Center features a restored P-51 Mustang painted with the Red Tails markings of the 332nd Fighter Group.
Learn more about the roles African Americans played in World War II.

Images from the National Archives:

The Tuskegee Experiment — Oral Histories from the Collection of The National WWII Museum
From the collection of oral histories at The National WWII Museum, listen to Charles McGee, William Holloman, John Leahr and Calvin Moret of Red Tails fame and Tuskegee graduate Calvin Moret describe their experiences as members of the Tuskegee Airmen.

Images from the Air Force Historical Research Agency:

Oral History: Charles McGee
Colonel Charles McGee first entered combat during World War II as a fighter pilot in the famed 332nd Fighter Group. McGee flew P-47's and P-51's in bomber escort missions with the 15th Air Force in Italy. McGee later served as a combat pilot in Korea and Vietnam.

Educational Materials:
Learn more about African American pilots of World War II by reading and downloading the Tuskegee Airmen Fact Sheet.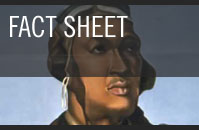 Learn More with Items from the Museum Store:
Proceeds from the purchase of these items fund the continuing educational mission of the Museum in New Orleans.