FEATURED ARTIFACT: LOVE IN WAR


Maybe a kiss is just a kiss, but romance never loomed larger than when conducted against the backdrop of World War II. With millions of men and women flung together by the capriciousness of conflict, love bloomed on the Home Front and overseas. To memorialize these great love stories for the Valentine's Day holiday, the Museum is sharing some of the items from the Collection that illustrate the challenges of love in wartime and the tenacity that overcame them.
Share your WWII love story or images with us on Facebook!

Sweetheart and Trench Art Jewelry:
The exchange of letters and souvenirs when far from home is a tradition as old as war itself. However, the practice intensified immensely during World War II as a way to briefly overcome the distance and hardship of war. These sentimental pieces of jewelry from the Museum collection, known as "Sweetheart" artifacts, would have been sent to loved ones as a symbol of those strong bonds. Jewelry that family, friends and significant others on the Home Front wore to honor their special someone are also included in this category.
Additionally, a number of sweetheart artifacts belong to a category known today as "trench art." Lack of materials on the battlefront often forced servicemen to use wire, mother-of-pearl, wood and inexpensive metals to fashion gifts. The engraved personalized messages, military insignia, locations and dates on these specific pieces illuminate the bonds between home and abroad.
Gift of Rhoda L. and Roger M. Berkowitz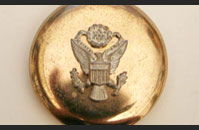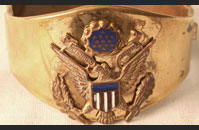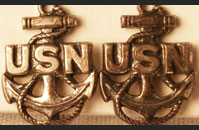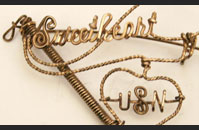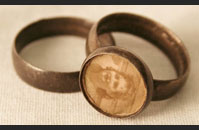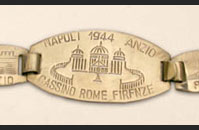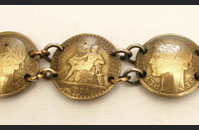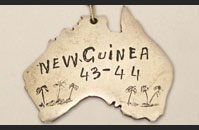 WEDDING GOWNS OF WWII:
The World War II years challenged civilians from the Home Front to war-torn Europe to do without many things for the sake of victory. The war also encouraged creativity to fill the gaps left by rationing and the ravages of war. These wedding dresses are a testament to the inventiveness of women tying the knot during the lean war years, and are beautifully made with materials such as parachute silk and mosquito netting.

Myrtille Delassus' Parachute Silk Wedding Gown:
Myrtille Delassus was seventeen when the Germans invaded her hometown of Merville, France. She spent four long years waiting in ration lines, cold and perpetually hungry. She could hear the Allied invasion of Normandy and, like many others, welcomed British and American soldiers when they arrived in Merville.
GIs were generous with their surplus supplies, and one soldier, Sgt. Joseph Bilodeau of Corinth, New York, often gave items to Madame Cocque, the owner of a dress shop across the street from where he was stationed. One evening, Madame Cocque invited Sgt. Bilodeau to dinner to thank him. Since it would appear inappropriate for her to dine alone with him, she invited Myrtille, who worked in her shop. Myrtille and Joseph enjoyed each other's company and started dating. They were married six months later on October 15, 1945, at the church in Merville.
Myrtille's wedding dress was made from a silk parachute by the women in Madame Coque's dress shop. It features a classic silhouette with a double rouched bodice and medium length train.

Joyce Adney's Parachute Silk Wedding Gown:
Joyce Adney and Adrien Reynolds met at a dance at Utah State University, where Joyce was head of the student USO and Adrien was training to be a radar operator. The newly minted marine made quite an impression on Joyce. She later recalled, "After we had gone through the receiving line and had punch, we went into the hall and we danced together all evening. He walked me home and I went in and told my roommate I had met the man I was going to marry."
Adrien and his detachment shipped out with the 4th Marine Division to invade the island of Saipan on June 15, 1944. Once combat ended nearly a month later, Adrien and his fellow marines found several unused Japanese cargo parachutes while clearing caves. He sent one of the parachutes to Joyce for safekeeping.
Adrien was discharged shortly after his participation in the bloody Battle of Okinawa. After stopping home in New Orleans, he immediately went to see Joyce, who was working towards her master's degree in Detroit. "I went out to the airport, and it had been almost three years since I had seen him. He was the last one off the plane wearing his dress blues, and he melted my heart into a little puddle." Little did Joyce know that in the pocket of those dress blues was her engagement ring.
Due to the continuation of rationing, Joyce opted to have her wedding gown made from the Japanese parachute silk Adrien had sent home. Joyce's mother, living in Utah, made the gown by hand. Joyce would wrap strings around herself to measure her waist and bust, and then send the strings to her mother, who would then lay the strings out and sew the fabric accordingly. Adrien's father contributed as well, making heart-shaped tins for their five-tier cake. The couple was married March 27, 1946, and remained so for the rest of their lives.